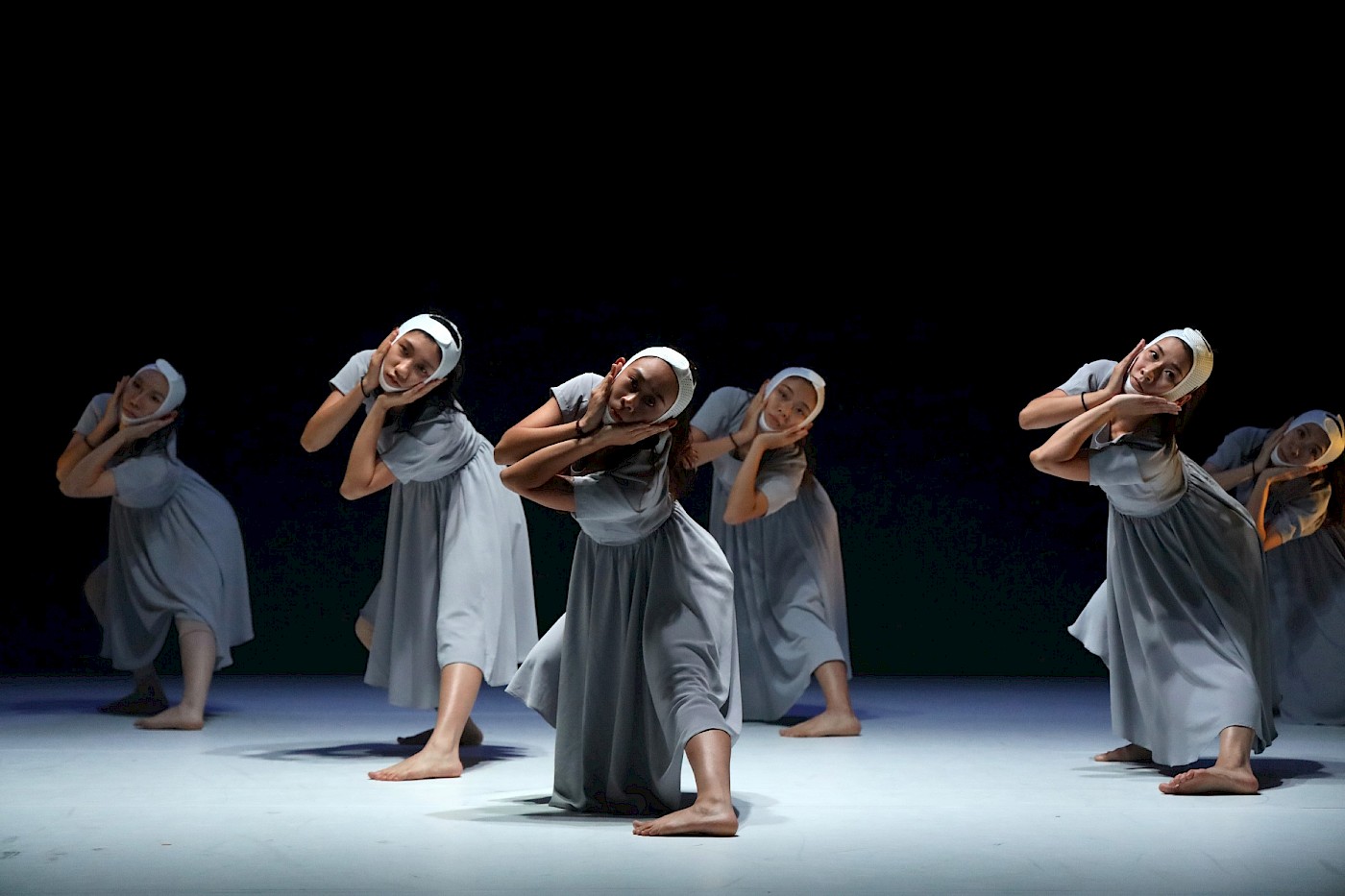 2018.11.18 15:00 start
Venue:GMDC Theater
---------------------
1. Pardon (Hong Kong+Macao)
Duration: 12 min
Choreographer & Performer:Tracy Wong,Mao Wei
Music:Alain Chiu
【Description】
"In this story, there is a choice to be made:escape it or face it. Is it still me that's stubborn? Or the choice?"
"Pardon" was commissioned and premiered at the 2015 Hong Kong Arts Festival. It has been joined the events in different countries:
2018
• Internationaler Wettbewerb fuer Choreographen Hannover
• "One Small Step" Urban Dance Festival, Corfu, Greece
• CÁDIZ EN DANZA Festival
2017
• DANS VOORSTELLING: "(NO) CHOICE" DOOR HKNLVERSATIONS(De Hallen, Amsterdam)
• NDA International Festival 2017- 2nd Asian Solo & Duo Challenge for Masdanza (Korea)
• Masdanza Festival - Choreography Contest 2017 (Spain)
2015
• The 43th Hong Kong Art Festival Kong Jockey Club Contemporary Dance Series
【MW Dance Theatre】
Mao Wei and Tracy started to work and collaborate since 2013, and they formed an artist platform MW Dance Theatre. CREATING AND PERFORMING. They are keen on the development of the body and to explore the physical characteristics of the unique style; delicate partnering work with a strong visual impact is a major feature of their works.
They specialize in the use of images to create an atmosphere and feelings to give people direct visual impact and their own imagination. In recent years. They have attracted attention and representative of young generation in Hong Kong art scene.
---
2. The interval of two points(Hong Kong)
Duration: 15 min
Choreographer: Liu Oi Ki
Music:
1. She Remembers / Max Richter
2. Infra 1 / Max Richter
3. Infra 6 / Max Richter
4. No Escape (with Christopher Nolan)/ Hans Zimmer
5. The Mole/ Hans Zimmer
6. Thus Speak Thack the Wise/ Cliff Martinez
Administration and Rehearsal Coordinator: Lee Tsz Wai
Performer: Chiu Po-Sheng, Liu Oi Ki, Liu Cheng-Xi, Liu Yen-Pei, Yang Feng-Ti, Yeh Chia-Fen, Zhu Yi Dong
Choreographer & Performer:HU Teng-teng
【Description】
For that one moment, it's here.
But you will never be sure.
The time comes and go.
People stay and left.
Paths might look similar, yet they will never be exactly the same.
【Liu Oi Ki】
Liu Oi Ki commenced her ballet training from a young age at the Shen Zhen School of the Arts. In 2018, she received the Bachelor of Fine Arts (Honours) Degree in Dance from the Hong Kong Academy for Performing Arts. In her years of training, Liu has been worked with a number of international dance artists, such as Iratxe Ansa, Anh Ngoc Nguyen and Raymond Chai. From the cooperation, Liu discovered her deep interest and talent in choreography. Therefore, she created her first piece "Black, White, Grey" in 2017 and tightly her second work "The Interval of Two Points" at the start of 2018. The piece "The Interval of Two Points" is also invited to restage at the end of the year in Guangdong Dance Festival.
---
3. FLOATING(Shenzhen)
Duration: 30 min
Production:Cultural Center of LongGang District, Shenzhen;Shenzhen Daweiwu Dance Troupe
Master Producer:Wan Jian
Choreographer & Director:Xie Xin
Producer:Xia Shikang,Jiang Chenguang
Coordinator:Wu Defang
Stage Director:Li Jiang
Lighting Design:Gao Jie
Lighting Technique:Yi Hai,Ye Xuwen
Music:Jiang Shaofeng
Stage Manager:Chen Honglei
【Description】
Shenzhen is a special city, like a neon mirage floating and glittering in the sky.Swarms of outside strangers float into the city to shape the desires in their dreams, which makes Shenzhen a floating city with floating crowds.Memories are marked here, pulling the places they have been and people they have met.Time draws the outline of memories and let them float wavily on the time track, flow smoothly into [my] body.
From the perspective of conception, the work searches for the innovative and most accurate physical expression, which's bringing intentional adjectives like floating, arc-connecting, flowing, etc into the real search and creation on body, rolling emotions of home, care, sensibility pull, dream and reality, etc into a series of choreography, to make the whole work interact among the spirits, bodies, visions and other aspects, and to build up a comprehensive and unique outlook.The work is based on the conceptive theme of city, aiming to walk into the public and create a sincere and close emotional exchange.
【Daweiwu Art Troupe, Longgang District, Shenzhen】
Founded in 2008, Shenzhen Daweiwu Art Troupe is affiliated to the Longgang District Cultural and Sports Tourism Bureau of Shenzhen City. It accepts the daily management and business guidance of the Longgang District Cultural Center. It also has private non-enterprise qualifications (Grade 4A) and different kinds of professional performance talents including the national level directors.It is a professional performance team with perfect management and exquisite performance, and an art performance group with excellent tradition and considerable artistic strength.
Since its establishment, the Art Troupe has been dedicated to the creation of fine works. Its original dance drama "Daweiwu·Mother Snow" has been performed in 110 provinces and cities in China.It has won the 10th Guangdong Provincial Arts Festival Gold Award and the Outstanding Works Award of the 7th Guangdong Province Spiritual Civilization Construction [Five Out of One Project] and the 9th Guangdong Lu Xun Literature and Art Award (Art).The dance works from the Art Troupe's creation and performance called "Bamboo Dragonfly", "Break·Establish", "Heroes No Regret" were awarded on the 8th and the 9th National Dance Competition respectively. In 2009, at the request of the Shenzhen Universiade Executive Board, they participated in the flagship performance of the 25th World University Games in Belgrade, Serbia. In May 2011, they went to the French Tahiti to participate in cultural exchange performances at the request of the Ministry of Culture and the Shenzhen Municipal People's Government, in order to promote and display Chinese culture, Lingnan culture and Hakka culture, and to enhance the friendship with the people of the countries and regions in which they have made a positive contribution.