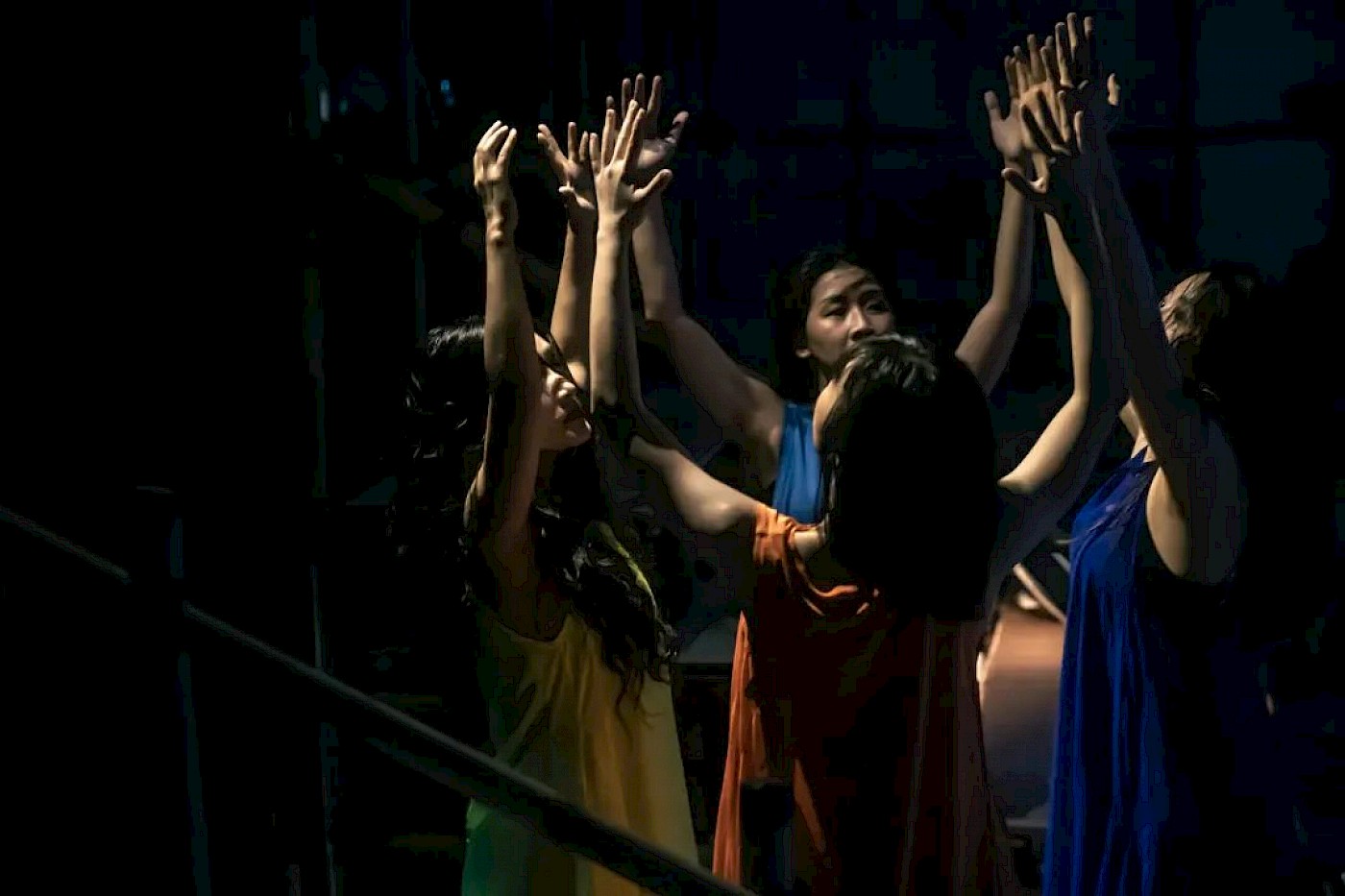 舞·渡·海
From Nov 20th to Nov 22ed, the dance festival will present the experimental works and the performance of new generation all over the world. Artists from Netherlands, the United States, Germany, South Korea, Japan, Taiwan, and other 7 cities of China. The wide variety of performances will let you enjoy different themes and styles, also the humanistic ecology of globalization.
First Part
2018.11.22 15:00 start
Venue:GMDC Theater
---
Why (Nanjing)
Duration: 7 min
Choreographer & Performer : Chen Ke
Description
I see a group of assailants. They are trying to break through……
BeiHe Dance Theatre
BeiHe (North River) is not physically a river.
The Dance Theatre focuses on creating and performing contemporary dance. With the motto "Where there is body, there is theater", the Company dedicates itself to promoting the art of dancing, and advocates breaking through the constraints of the stage and integrating the body conception into life.
Chen Ke
Trainee dancer of BeiHe Dance Theatre. Student of Dance choreographer Major, Nanjing University of the Arts.
---
INTO THE DARK(Guangzhou)
Duration: 3 min
Choreographer & Performer: Wang Mengjie
Description
Dark night is mysterious.It weakens your visions and leads you to an infinite imagination.It seems like fighting, being chased or tied, or struggling, but in the end it will be dawn, day and night, an uncontrolled rule of nature.
Wang Mengjie
Wang Mengjie has participated in pottery body workshops and Gumingshen workshops, had the recruitment interview of the Dutch Dance Theatre Dance Company. She has starred in Wang Yuanyuan's work "indefinite space".
---
Verge(Hong Kong)
Duration: 9 min
Choreographer:Yang Jingxian
Performer: Yang Jingxian, Guo Zhiying
Description
Before he left, what would he see?White flowers, white sheets, white machines, white people, white taste, but he was naked and unable to escape.Such a simple wish became distantly untouchable.The person outside the glass looked at him, for dependence or being depended?The transparent glass was written with a ban, and the hope was to sing in desperation.
Yang Jingxian
Graduated from the Dance Academy of Shanghai Theatre Academy and later obtained a professional postgraduate diploma from the Ballet Department of the Hong Kong Academy for Performing Arts,Yang served as a vice president of Zhong Yongxian Ballet School.In 2011, she won the Open Group Ballet Solitaire Silver Award in the Australian Federal Dance Teachers Association CSTD Song and Dance Festival; the Helen Mackay Classical Championship Silver Award and the fourth place of the American Dance Competition in modern dance.Yang has toured with Shanghai Oriental Song and Dance Troupe, the HongKong Ballet and the HongKong Dance Company.
In 2016, she was invited as a guest performer to attend the Canaan Star International Ballet Competition. Currently, she's active in the field of modern dance.She once participated in the work "Exotic" in the East Side Dance Group and participated in the performance of "Modern 2" in Shanghai Modern Dance Week.In Guangzhou Modern Dance Week and the 35th years of Hong Kong City Contemporary Dance Group anniversary, she has performed in the show with Hong Kong local choreographers.Her recent performances include"That day" (Hong Kong Dance League "Bouncing" 2016), "Triangle Corner" (Hong Kong Arts Festival 2017) and as a dancer appearing in two acts of "Dream of Red Mansions"(Hong Kong Arts Festival 2017), "Blue Moon Night" (Hong Kong Small Symphony Orchestra), "Love Shangri-La" (Upper Theater).
---
Rite of Exorcism(Zhang Jiajie)
Duration: 8 min
Choreographer & Performer:Peng Yi
Description
The aggressive exorcise master in fete, the bloody altar with flies, there is a scene filled with endless desire from human beings.Is this fete set for praying to the heavens and the earth to protect themselves or fighting against the heavens and the earth to satisfy their desire of survival?The inspiration came from the hometown where the choreographer had lived for many years and Nuo culture had prevailed across Xiangxi Tujia and Miao ethnic groups in Hunan, China.The work's in the purpose of exploring the phenomenon of the existence of ethnic groups, and to express self-contradiction from the small and weak but blind and ignorant personalities inside human.The work has been short-listed for 2018 Beijing Bi-week Youth Dance Exhibition and the 7th Malaysia Sibu International Dance Festival.
Peng Yi
Born in Hunan province, now resides in Zhangjiajie as a freelance artist. In 2013, he studied Ankuku Butoh in Japan. From 2014, he has spared no effort to make modern dance choreography, featured by combination of Chinese body language and modern methods.
His representative works "Crazy" and "Rite of Exorcism" were invited to the 2017 Guangdong Modern Dance Festival, the 2018 Beijing Dance Festival, the 7th Malaysia Sibu International Dance Festival and other important international art festivals.
---