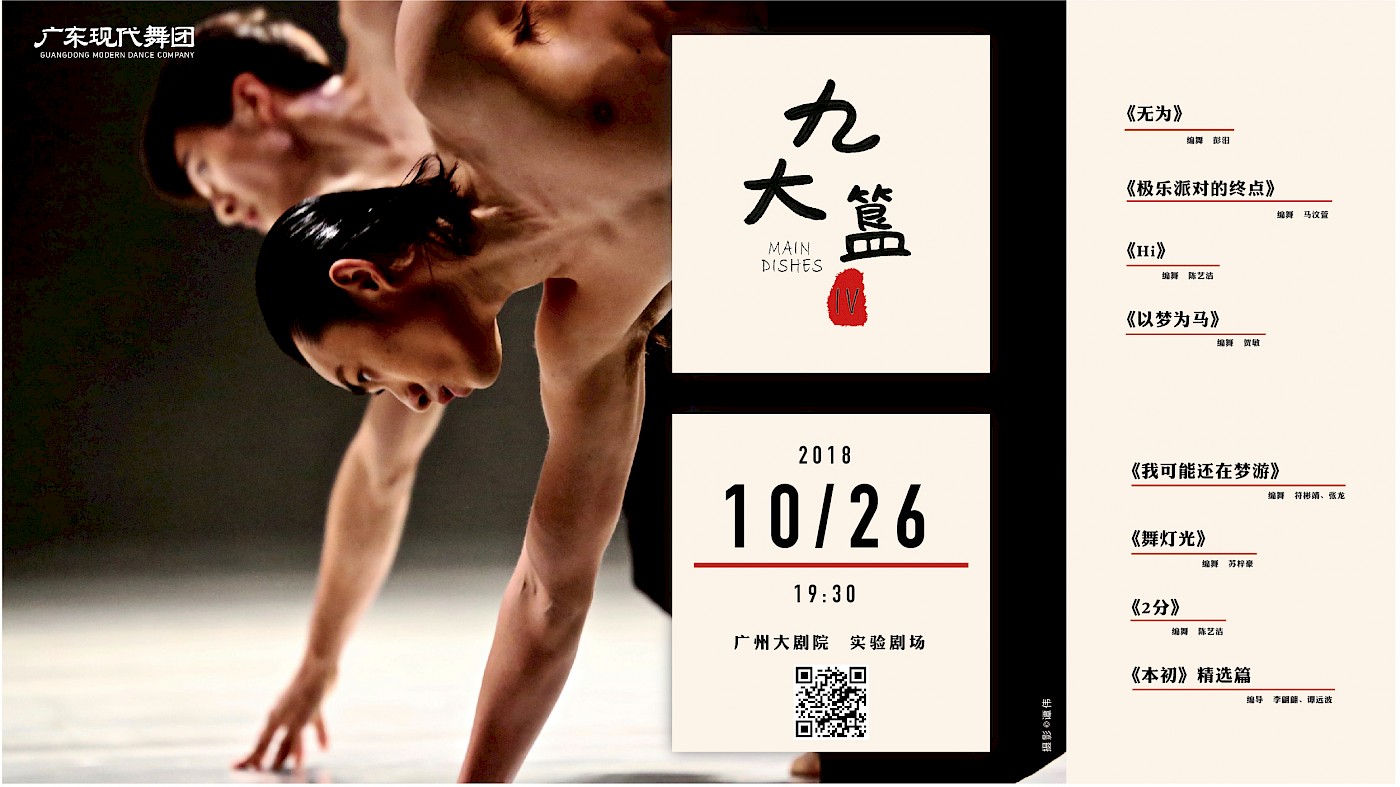 Main Dishes Ⅳ
This is the annual production of the GMDC dancers presenting their own pieces. The Dancers' Work of this year is named Main Dishes, which refers to a sumptuous banquet in honor of the distinguished guests by the host. The choreographers and dancers of the GMDC prepare a feast with diverse dishes for all the important guests and friends. 
Inaction
Follow the heart, do nothingless.
PENG Mi
CHEN Yijie, Belinda ZHANG,SU Zihao,CHEN Baiyu
Track: Electric Counterpoint:I.Fast
Album: Different Trains,Electric Counrerpoint
Composition: Steve Reich
The End Of The Gatsby Party
She dressed up for her gatsby party, saying goodbye to her old self as her body disassembled to the upbeat strains of exotic music. Soft black dress is her armor, under the deep black, is colorful neon
Choregraphy&Dancer:Christy Poinsettia Ma
Hi
Hi! 'How are you'?
CHEN Yijie
ZHANG Yan,LI Jiahao
Track: Razzle Dazzle
Album: Chicago
Composer: Various artist
I Do Believe

Come for attachment, go for eternity -- to haizi.
Choregraphy&Dancer:He Min
Meet Me In My Dream
XXXXX
Choregraphy&Dancer:Fu Binjing/Zhang Long
No Light
No light? Wield it.
SU Zihao
SU Zihao
Track: Forgetting You Is Like Breathing Ware
Album: Theory of Machines
Composer: Ben Frost
Two
Point/Line
CHEN Yijie
CHEN Yijie
Track: False Astronomy
Album: Hidden neighbor
Composer: Mister Lies