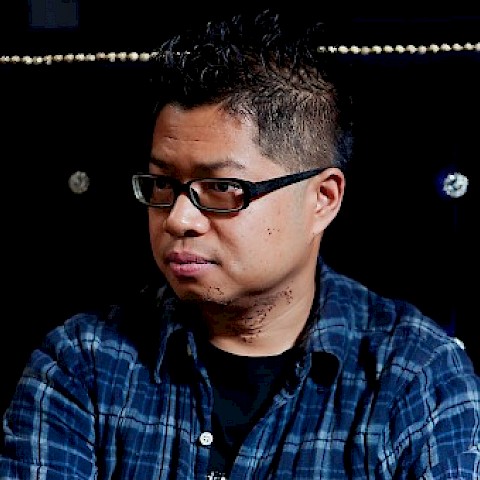 Dickson Dee
Musician
Dickson Dee(Li Chin Sung) has been engaged in the music industry for more than 25 years. His career started from importing European independent labels to Hong Kong, China and Taiwan; followed by establishing his own music label Noise Asia, organizing concerts etc. His experience includes distribution, import/export, creation, publishing, promotion, artist management and other kinds of works in the industry. He has made a great contribution to the development of independent music in Hong Kong, China and Taiwan
In 1996, Dickson's debut solo album "PAST" was released under Tzadik label (USA). Since then, he began to set foot on the creation field with musical styles ranging from avantgarde to experimental, music concrete, electronic, new classical, industrial noise, dance, electronic world jazz etc. He has performed under different names and formed several bands. For example, DJ Dee for electronic experimental music, Li Chin Sung for music concrete and avantgarde, PNF for industrial noise, Khoomi Sound Machine for electronic world jazz, Dickson Dee for electronic acoustic,sampling cut 'n' paste and turntableist. Mars News Ensemble for mixed film,music, multimedia art project.
He has collaborated with many artists such as Zbigniew Karkowski, Otomo Yoshihide, Sainkho Namtchylak, Maja Ratkje,Sachiko M,Tom Thiel, Werner Dafeldecker, Patrick Pulsinger,Cdrk,Tujiko Noriko, Tetsuo Furadate,Yoshida Tatsuya, Keiji Haino,Adichi Tomomi, Astro, Makigami Koichi,Kang Taehwan ,Lawrence English, Electronicat ,Wang Fan,Zhang Zhu,Wang Yong, Park Je Chun, Jonas Hellborg, VJ Milosh, Dr Das, Martijn Tellinga, Huun Huur Tu, Xu Fengxia,Peter Brotzmann…. etc, also he was been invited to Venice Biennale(2013,2015), Köln MusikTriennale, Fabbrica Europpa(2016,2014,2015),Yokohama Triennale, Kitakyushu Biennale,Moving Closer Poland,Huayi Festival Singapore,Shenzhen Biennale of UrbanismArchitecture(2008,2006,2010), New Vision Art Festival Hong Kong(2006,2010), Silk Road Art Festival Hong Kong,Arts Festival Folk and Modern Korea,Clandestino Festival Sweden,Taipei City Festival,Hanoi Sound Stuff Festival Vietnam,Guangzhou Film Festival, Guangzhou Modern Dacne Weeks, Bergen International Festival, The Spirit of Tengri Festival,Urban Nomads,Shanghai International Art Festival(2013,2015),Festival International Art Costa Rica,Hong Kong Art Basel,Korea Jeonju Int'l SORI Festival,International Poetry Nights in Hong Kong, Beijing Dance Weeks …..etc
Dickson set up his personal label Dicksonia Audio beside Noise Asia, which concentrates on the release and publishing of his own works. This provides more freedom and convenience to further develop his creativity.
Besides concerts, Dickson also appears in arts academy and university for workshops and lectures to share his experiences with students, hoping to trigger their interest on sound art and music; furthermore, to give them a better understanding on the different aspects of music.