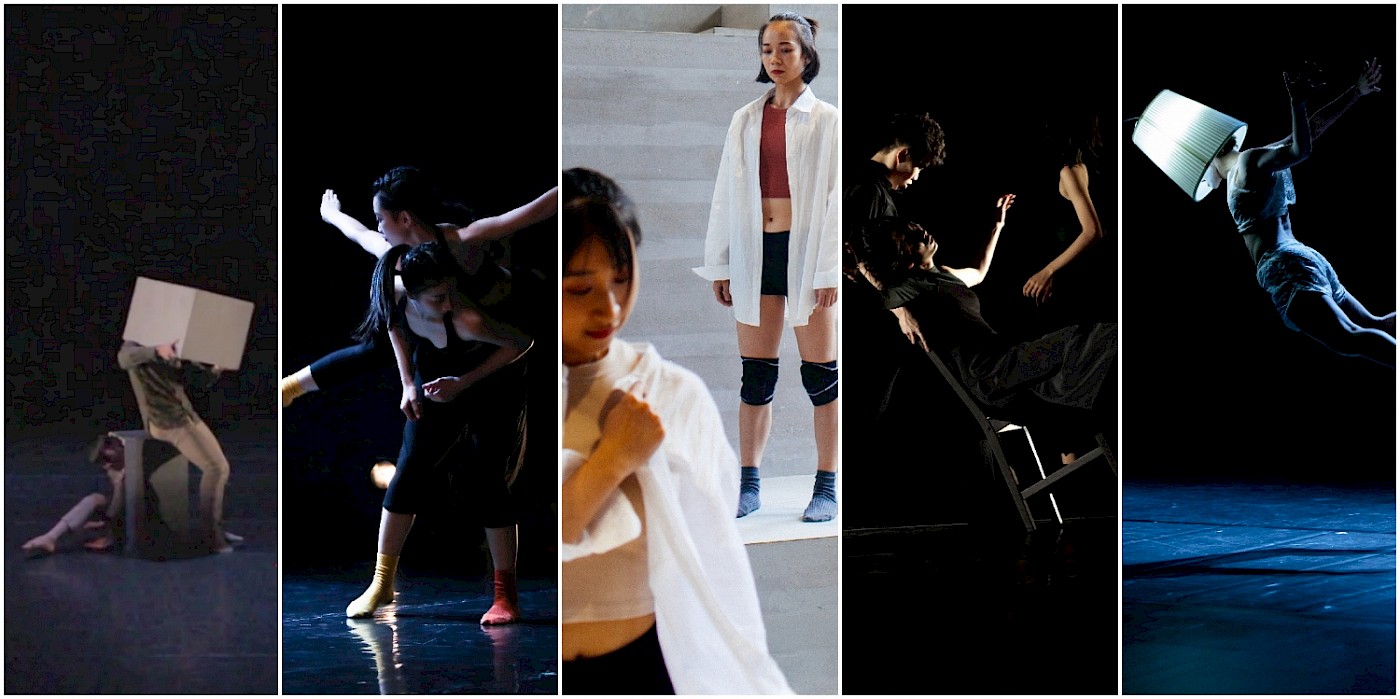 DAY TWO 2018.11.19
Great Bay Area Power(PART II)
From Nov 18th to Nov 19th, the artists from the Chinese Great Bay Area, including Hong Kong, Macau, Shenzhen and Zhuhai, will bring out the short performances. You can also see the final works of the "Guangdong Dance Summer Camp 2018" hosted by Guangdong Modern Dance Festival.
2018.11.19 15:00 start
Venue:GMDC Theater
---
Remain Invisible(Hong Kong)
Duration: 20 min
Choreographer & Performer:KT Yau
Assistant to Choreographer:Carmen Yu
Touring Lighting Designer:Bie Lai
Producer:Andy Lo
Description
Always in fear, forgot the weight of my shell. An unpackaged performance with a packaged performer May I?
To see or not to be seen?
Remain Invisible is a solo dance piece about the presence of an individual on stage. It invites the audience to open up their imagination of body existence, and reflect on the way of seeing a dancer as a role instead of dancer herself / himself. This is a game of being on stage but not being in a performance. Only allowing a certain degree of visibility of performer, in the other words, the dancer has never seen the audience as well. Avoiding the misleading state of 「being visible / performing」, Remain Invisible sincerely expresses the body in the state of 「being invisible / yourself」.
KT Yau
「A young and atypical choreographer who constantly comes up with extraordinary ideas...retains a rebellious sense of black humour!」- Natalia Chan, Hong Kong experienced critic
Born in Hong Kong, Yau graduated with a Bachelor's degree of Fine Art (honours) in Contemporary Dance from The Hong Kong Academy for Performing Arts in 2013. During her study, she was awarded the Mainland Exchange scholarship from HSBC to Inner Mongolia for cultural exchange. In 2016, she furthered her dance studies in Israel, participating in different workshops and exchanging in Vertigo Dance Company. KT is the receiver of the Emergency Choreographer Award of the Hong Kong Dance Award 2018 and her work Unmixed in the 「New Force in Motion」 series, LCSD, received the Outstanding Small Venue Production Award of the Hong Kong Dance Award 2018.
From 2013 to 2014 she was a dancer of Y-space Dance Company. Currently she is a Hong Kong-based freelance artist. As a dancer, she has collaborated with a variety of renowned local organisations and arts festivals, including Hong Kong Dance Company, Y-space Dance Company, Unlock Dancing Plaza, i-Dance Festival, Hong Kong Arts Festival, Hong Kong Philharmonic Orchestra, Hong Kong Repertory Theatre, Theatre Ronin, etc.
---
HI!BOX BOY
Duration: 10 min
Choreography:LIN Chia Liang, LAO Pui Lon
Dancer(s):LIN Chia Liang, LAO Pui Lon
Music:Cucurrucucu Paloma - Caetano Veloso
Description
A daily greeting can be simple but also be the entrance of others' heart.
Stella & Artists
Stella & Artists was founded in 2012, Stella & Artists (SA) is a contemporary dance company in Macao which aims to pass on the culture of Chinese dance while taking inspirations from our daily lives and incorporating them into dance creation. SA endeavours to promote dance education and cultural exchange between Macao and foreign countries. Through active collaboration with different dancers and artists, SA enhances dance and cultural development of Macao.
In terms of cultural exchange, the company has been organising dancers in Macao to participate in the teaching and performing activities in Lisbon, Portugal under UnityGate since 2013. In 2016, SA joined 「Delta Moves」 (an international exchange programme) and organised Macao delegates to participate in the Tanzmesse's exhibition in Dusseldorf, Germany. In addition, SA also participated in Performing Arts Market in Seoul (PAMS) and Supercell Festival of Contemporary Dance Brisbane in Australia. In order to promote the development of dance in Macao, SA hosts 「Solo/Duets Showcase」 every year since 2013 to encourage local creations. In 2015, SA co-organizes 「Dancing in the Moment」 with local groups Four Dimension Spatial and Max Dance Hall to promote contemporary dance in Macao. It covers a series of events by introducing programmes from other countries, small dance theatre experimental programme, contemporary dance popularization workshops and school promotion activities. Meanwhile, annual productions are created by inviting outstanding artists and performing groups to enhance the professional level of local dancers. SA has worked with Xing Liang, Mui Cheuk In (Hong Kong), Ku Ming-Shen (Taiwan), Amalgama Dance Company (Portugal) and Dancecology (Taiwan).
LIN Chia Liang
Born in Yunlin, Taiwan and graduated from Taipei University of the Arts-School of Dance. He started dancing at the age of 10. After attending the dance class, he began to learn and aim to be a theater artist.
LAO Pui Lon
Born in Macao, graduated from the Faculty of Business Administration of the University of Macau, and he is currently studying at the Taipei University of the Arts-School of Dance. He have been learned different types of dance since he was 14 years old, and has been represented Macao to Portugal, Australia, Japan, Turkey and other places for communication and study.
---
Personality
Final works of the Guangdong Dance Summer Camp 2018
Duration: 13 min
Choreographer:Zhang Ciyu
Description
This is one of the final works of the "Guangdong Dance Summer Camp 2018 hosted by Guangdong Modern Dance Festival. The choreographer hopes that the students will transform and develop their movement into their own body vocabulary after absorption and digestion. Then, their unique body vocabulary and the original movement are assembled under the concept of "different senses but can be integrated with each other.
"Personality" represents that the teacher hopes that the can be capable of their own dance vocabulary and develop their unique styles.
Zhang Ciyu
Currently she is teaching at the Dance Department of the Taipei University of the Arts, University of Taipei City, also the contemporary dance teacher of Fluxwave Dansical Center and modern dance teacher of Lan Yang Dance Troupe. She has joined the International M.F.A. Program in Cultural Creative Industry, Taipei University of the Arts. She was a dancer of the Hong Kong City Contemporary Dance Company.
She has performed solo and duet for famous choreographers such as Li Haining and Peng Jinyao,and the dance drama "San Mao" (starred in San Mao) choreographed by Cao Chengyuan and Shu Qiao. She was the dancer of Cloud Gate Dance Theatre, and she had played the main characters in "The White Serpent Tale ", "Shooting the Sun" and "Legacy".
---
Three in One(Zhuhai)
Duration: 7 min
Choreographer:Hu Xia
Performer:Li Ting, Liu Yilin, Wang Bixia
Description
Under the labelled world, our personality seems to be split. Me and three divided faces of my own, developed into this pas de trois.
Hu Xia
Teacher of School of Art and Communication of Beijing Normal University Zhuhai Campus, and has rich experience of teaching in colleges. Master, Dept. of Dance, Beijing Normal University, and she was elected as one of the outstanding graduates. Member of China Education Association and Zhuhai Dancers Association.
She has won the Silver Award of the Guangdong University Students Art Festival Dance Competition, the Gold Medal of the Zhuhai Professional Dance Competition, the first prize of the University Teachers' Basic Skills Competition, and has been to Rome, Italy for communication.
---
Between acquaintance and strangeness(Zhuhai)
Duration: 25 min
Choreographer:Ma Ke
Stage Manager:Liu Hongping
Performer:Guo Fan、Huang Sijun、Huang Xueyi、Li Yao、Zhuo Siyu
Description
From strangeness to acquaintance and from acquaintance to strangeness, the coincidence of relationships may change because of a very simple reason. This piece of work proceeds from the individual and motive elements of each dancer, and tries to tap all the elastic relationships of colliding possibility on the stage through constant trials. And then establish a new structure of understanding from these fragmentary materials by reinterpreting the space, imagination and emotions expressed.
The subtlety of random and coincidence is just like life. There could be a world-shaking outcome simply because of a tiny factor. As it is interpreted by the choreography, there is no "stranger" in the world; it's just not the time yet for him/her to know you.
Ma Ke
Freelance choreographer, graduated with a master's degree of Fine Arts in Dance from the Hong Kong Academy for Performing Arts and worked as a full-time dancer in Guangdong Modern Dance Company. In 2017, he was invited as one of the two Chinese choreographers in a dance research project "RAM CAMP in Kyoto 2017" collaborated by China, Japan and South Korea, which was jointly organized by Kyoto International Stage Art Festival and Yamaguchi Media Art Center.
His personal representative works include: "Unrest," "Satisfied," "Indefinite," "Home," and "Home Again". His work "Resonance" was invited to the 2016 ACDA Dance Festival in the United States and was selected as Top 10 best works of the festival.