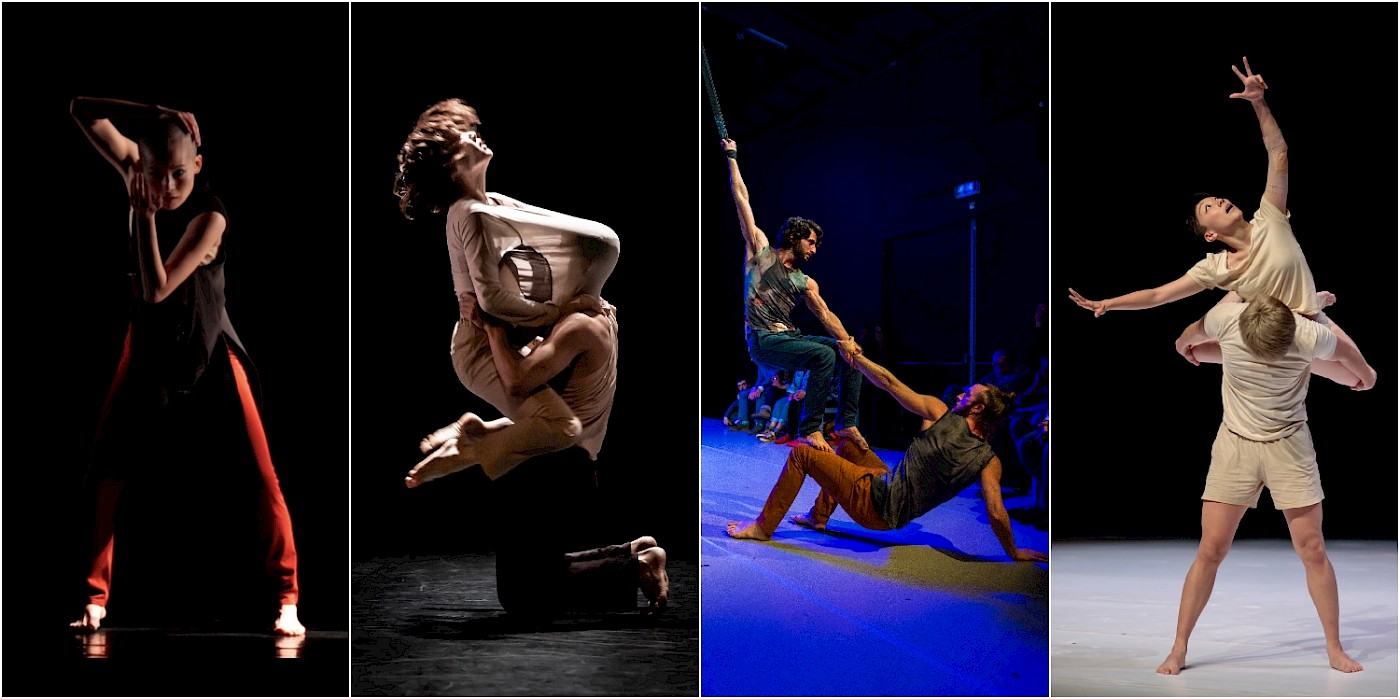 DAY FOUR 2018.11.21
【30 Minutes】(PART 2)
From Nov 20th to Nov 22ed, the dance festival will present the experimental works and the performance of new generation all over the world. Artists from Netherlands, the United States, South Korea, Japan, Taiwan, and other 7 cities of China. The wide variety of performances will let you enjoy different themes and styles, also the humanistic ecology of globalization.
First Part
2018.11.21 15:00 start
Venue:GMDC Theater
---
GENG ─ 2017 New Choreographer Project(Taiwan)
Duration: 22 min
Choreographer & Performer:LIU I-Ling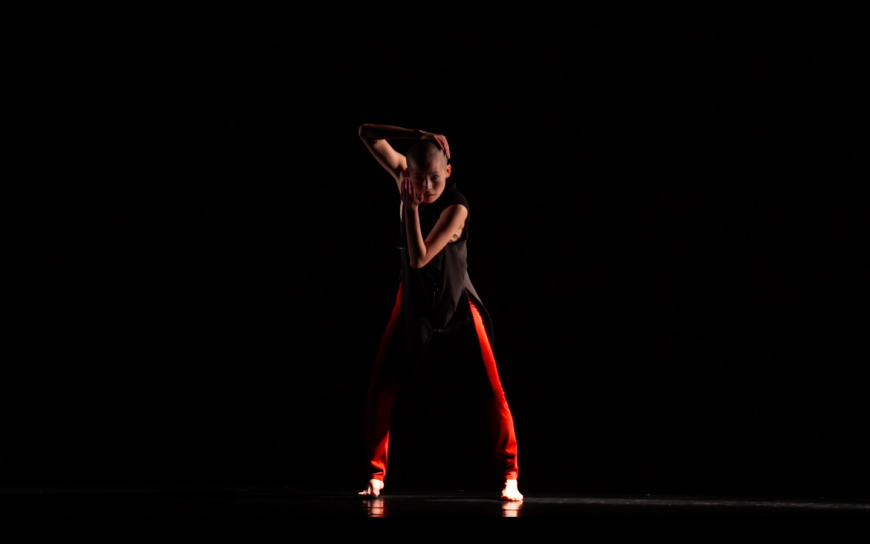 Introduction
Geng is time, experience, change and comparative……The choices made in the face of the tests in life may have different ideas afterwards.So if you encounter similar situations again, you would adjust ways and mentalities, this is growth. "Geng" is made by this thought, trying to challenge people's definition of "good",and presenting the emotions of those moments faithfully.
In the works, light plays a mysterious and challenged role from the beginning to end.Performers seek to survive between light and dark.Whether it's a calm and repeating mono, or silent or lyrical gentle songs, music becomes an extremely important channel for emotional expression in the works.For example, Liu Wei's first attempt to lyricize It's Not About You, with hip hop rap, is a vent at the time of the test. The Japanese sword-drawing technique iaido of 12 moves is the main action source of the whole solo dance.With the total length of 22 minutes, the works change actions with a set of 2 minutes' movement.In the repeating path and contrasting environment between upper and lower stage edges, the works create the states of different characters.
LIU I-Ling
Traveling and living in New York,USA, she is a senior dancer of Bill T. Jones/Arnie Zane Company in America now.In 2012, she served as the rehearsal guide for the D-Man in the Waters, performed by the Focus Dance Company of the Northern Art University.In 2014, she returned to Taiwan to participate in the production of Horse Dance Theater's 10 years establishment, and performed Chen Wukang's "Death Mimicry" at the National Drama Theatre.Since 2015, she has been a self-produced dancer of BTJ / AZ in the work of Dancers by Dancers.In the same year, she worked with He Xiaomei to joined the Meimage Dance "Button Project"and published her personal creation "Hush".In the summer of 2017,she returned to the new work "Geng".
---
A sense of perspective(Nederland)
Duration: 12 min
Choreographer: Pia Meuthen
Dance / Acrobatics: Francesco Barba, Tarek Rammo
Music: Strijbos & van Rijswijk, Jeske de Blauw
Costume: Sanne Reichert
Lighting design: Bart Verzellenberg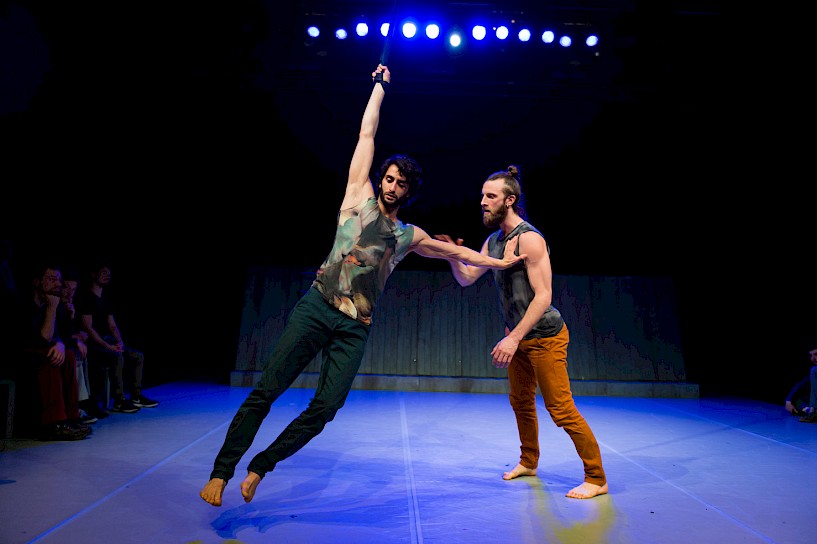 Description
A Sense of Perspective is a duet of aerial strap artist Tarek Rammo and dancer Francesco Barba. An encounter between ground and air that resembles a memory, sometimes fleeting at other times intense. The use of the aerial straps makes the experience of time almost tangible. A smooth time that accelerates and slows down the movements and draws you into the story of these two men looking back on their friendship.
For several minutes he hangs on one arm, circling, almost floating, he seems to overcome gravity. He stretches towards the ground and softly lands on the shoulders of his opponent. A Sense of Perspective is a duet of aerial strap artist Tarek Rammo and dancer Francesco Barba.
An encounter between ground and air that resembles a memory, sometimes fleeting at other times intense. The use of the aerial straps makes the experience of time almost tangible. A smooth time that accelerates and slows down the movements and draws you into the story of these two men looking back on their friendship.
PANANMA PICTURES
Panama Pictures presents a refreshing, unique mix of circus and dance. The company is based in the Netherlands but also enjoys international recognition with selections for various dance networks, international residencies and performances in, among others, Germany, Poland, Russia, Norway, Spain, Indonesia, Malaysia and China. With Panama Pictures, choreographer Pia Meuthen develops a new and authentic signature: unpolished and raw, but with a natural ease where dance and circus blend effortlessly with one another.
In 2018 Pia Meuthen receives the Prins Bernhard Culture Fund Prize North-Brabant. The jury praised her unique and impressive oeuvre. 'Pia Meuthen has enriched Brabant with stimulating performances of unprecedented eloquence', according to jury chairperson Esmeralda Huizen.
---
2-gether(Korea)
Duration: 20 min
Choreographer:KIM Hyea-Yoon,RYU Jin-Yook
Performer:Ghost Dance
Description
This choreograph'y expresses the idea of "intersection"by startingwith the image of physical contacts that leads to the convergence andseparation of two dancers This illustrates not only the relationship between a man and a woman but also the relationship among peopleas well. It illustrates both tensions and interpersonal skills between twoPeople through the movements that intersect each Other with their ownbody parts. It demonstrates the way they understand and communicateeach other.
Ghost Dance
The Ghost Dance group which is inspired by the word "ghost" meaning formless and shimmering style like that of a ghost was formed by both directors and artists, Ryu Jinyook & Kim Hyeayoon.
This group was formed in order to express something that does not have a physical shape or vague abstract concepts that show various movements.
In addition, we want to communicate with the audiences through this work by showing aesthetic variability that leads to various forms in subjects, movements, and dancers.
KIM Hyea-Yoon
Graduated from Ewha Womans University and majoring in Dance, Kim is always invited to perform En local and international dance festivals. She won the 1st Award of "Young Author (Solo & Duet)"of Seoul International Choreography Festival in 2016 and the senior 2nd Award of Contemporary Dance Association of Korea Competition in 2015.
RYU Jin-Yook
Graduated from Korea National University of Arts and majoring in Dance Performance, Ryu performed for local and international dance festivals, including International Tanzmesse nrw (Germany), Expo Milano (Italy), and "Jacob's Pillow" Dance Festival (USA). He also won the 1st Prize of the International Dance Competition-Hellas in 2010 and Best Dance Award (Individual) of the 30th Seoul Dance Competition in 2009.
---
Body Language(Japan)
Duration: 20 min
Choreographer & Performer:Yoshika SHINOHE,Kota KIHARA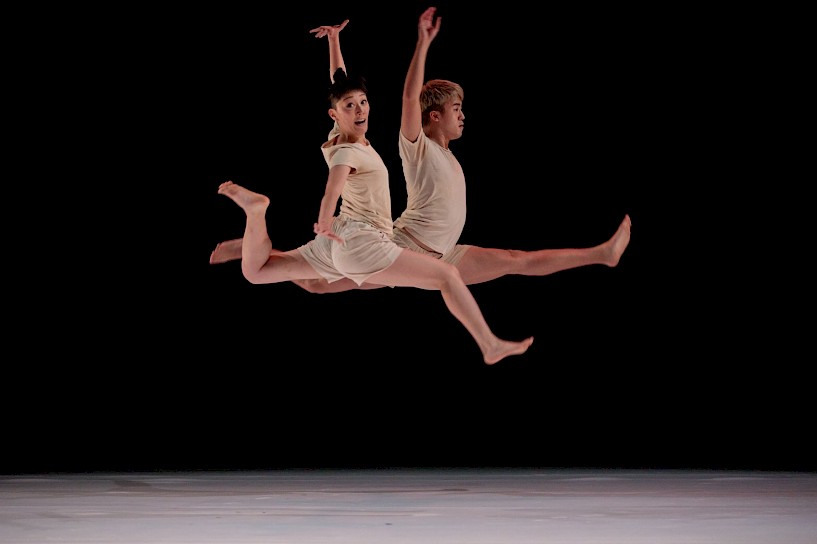 Description
There are two bodies here. Sharing, accepting, refusing and taking. Linked breathing.
Yoshika SHINOHE
Currently a dancer at Miyako Kato Dance Space and Tabatha, Shinohe has danced in many projects, and collaborated with musicians ,composers and video artists. Her accolades include winning the first prizes in the Sendai Dance Competition 2010 and the Dance Plan 2010, as well as the third prize in the 8th Seoul Internayional Dance Competition. Together with Kota Kihara, Shinohe and Kihara are a choreographic duo based in Tokyo, focusing on creating gender-neutral pieces derived from natural movements of play. As a collective, they have won the 2012 Kobe National Dance Competition, and awarded the Grand Prix at the 2012 Dance Summit in Jaoan.
Kota KIHARA
Kihara graduated from the Contemporary Dance and Choreography course at Nihon University studied modern dance and contemporary dance under Miyako Kato and Yuko Kihara. A dancer at Miyako Kato Dance Space and Co. Yamada Un, he has toured with these dance companies to different countries. His accolades include winning the first prize. In the 64th and 67thNatianal Dance Competition, the 45th Saitama Dance Competition and the 20th, 22nd and 24th Kobe Dance Competition in Japan. Kihara has also createcl a number of solo works, including Pegasus, which premiered in 2014. His work Foot, Foot Step Sound and Step was selected for MODAFE 2014 and the Seoul Internation Dance Festival 2013 in South Korea.
---
Second Part
2018.11.21 20:00 start
Venue:GMDC Theater
---
NOISE (America+Germany)
Duration: 60 min
Choreographer & Performer:Edivaldo Ernesto & Judith Sánchez Ruíz
Music: Thomas Proksch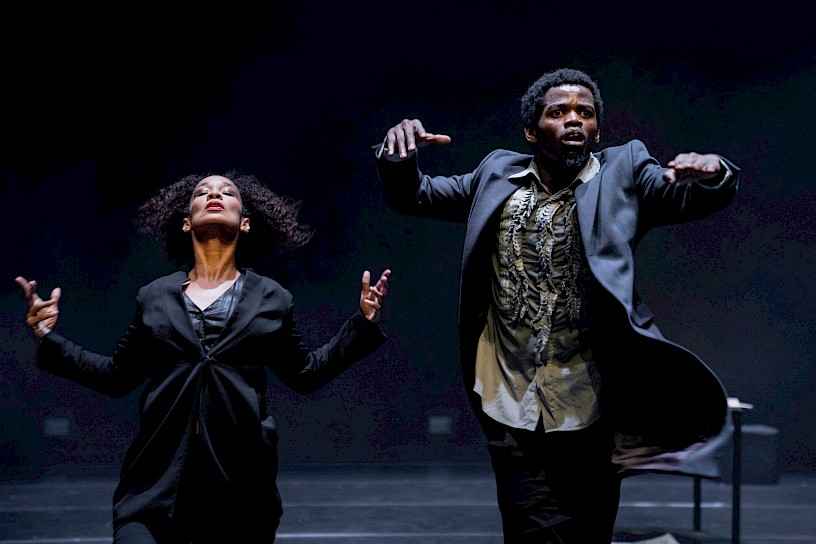 Description
We are surrounded by flashes in a time of speed, instants and negotiation of attention, delivery and pursuing of power among us at his highest, making all of us dependable of each other's needs, boundaries and compromises.
Edivaldo ERNESTO
Expert/Teacher/Choreographer born in Maputo (Mozambique) and currently based in Berlin since 2007 .For 11years Edivaldo Ernesto has been working with David Zambrano in duet improvisation performances and further creations, teaching and touring across the world . He has performed :"twelve flies went out at noon", "Soul Project", "SHOCK" and "land in love";Directed by David Zambrano. Edivaldo Ernesto is a former member of Sasha Waltz and Guests company(2007-2014) . He performed repertory and new production works "Travelogue-Twenty to eight", "Jagden und Formen", "Continu", "Metamorphoses", "Passion", "Gefaltet" and "Sacre", and is also 2012 he has developed various collaborative projects with Judith Sanchez Ruiz such as spontaneous improvisation performances and the choreographic duets"There is a name for it" and in research "till Collapse"2015.
Since 2011 Edivaldo Ernesto has been immersed in the investigation and development of his workshops"Depth Movement"and "Next Level" that have been spread across Europe educating many dancers and performers.
Judith Sânchez Ruíz
Choreographer, improviser and teacher based in New York since 1999 and relocated to Berlin in 2011. Worked with Trisha Brown Dance Company, David Zambrano, DD Dorvillier, Deborah Hay, Sasha Waltz & Guest among others. Her works have been presented internationally in theaters, festivals, museums and galleries. She regularly teaches workshops throughout Europe and the US.